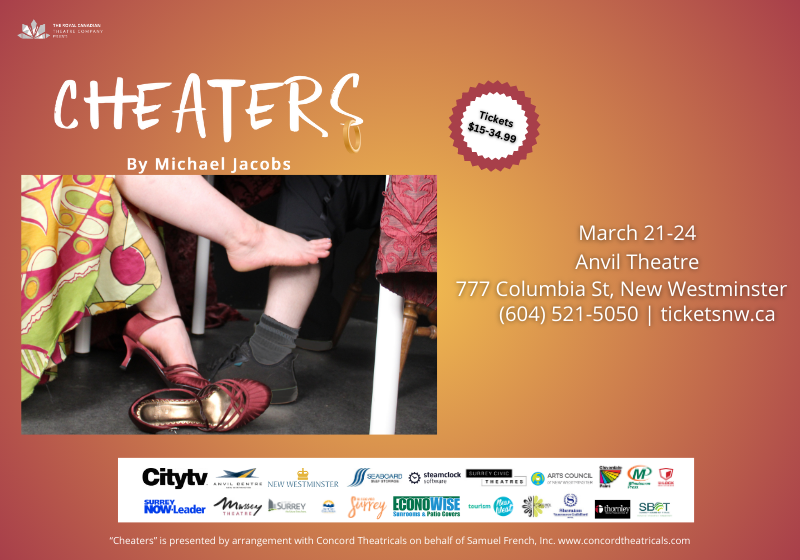 Presented by the Royal Canadian Theatre Company
Written by Michael Jacobs
Allen and Michelle have been living together for eighteen months. It is the first real relationship for both of them. Michelle thinks they should marry; Allen isn't sure. His hesitancy drives her home to her parents for advice. Michelle's Father isn't aware that it is Allen's mother he has been seeing for the last six months and would now like to get rid of, nor does Michelle's mother know that it is Allen's father she has just spent the night with and would like to see more of. The pieces fall uproariously into place when the parents decide to meet the young lovers over dinner to lend their maturity and experience for the benefit of their children's relationship. It's suddenly everyone for himself in this wild, rollicking look at love and romance.
---
SEE MORE SHOWS AND SAVE!
Discounts are available by phone at 604-521-5050 for the following great deals:
• Family pack of 4 tickets
• Groups of 10 or more
•Book all three Royal Canadian Theatre Company shows as a Season Ticket until October 26 to save 20% on your tickets (The Farndale Avenue Housing Estate Townswomen's Guild Dramatic Society Murder Mystery at Anvil Theatre, Cinderella at Massey Theatre and Cheaters at Anvil Theatre).
---
Relaxed Performance *
Thursday, March 21, 2024 at 7:30 PM
The relaxed performance is sometimes called "sensory friendly performance" and is specifically designed to make theatre more welcoming for audience members with sensory, communicative or other challenges.
During these plays, patrons can enjoy the show together with family and friends in welcoming, inclusive and relaxed spaces. "Relaxed Performances" are also excellent for anyone with babes in arms or toddlers.
• Sound and lighting cues are adjusted to be less intense;
• exiting and entering the auditorium is allowed at any time;
• auditorium lights are never fully turned off;
• audience noise, movement and even the use of phones or other "fidget devices" are tolerated.
• Relaxed Performances are "Buy 1 get 1 free" to accommodate for those with a guide or an aid who attend the performance with them.