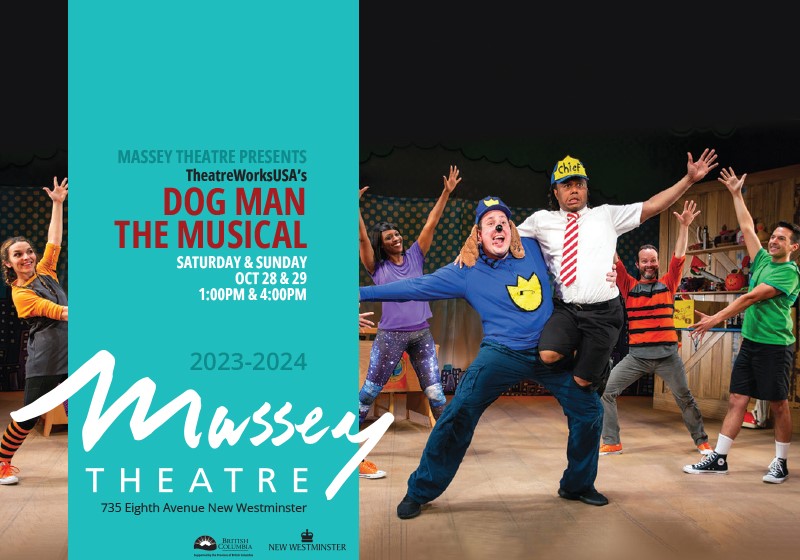 Massey Theatre presents TheaterWorksUSA's production of Dog Man: The Musical
Dog Man: The Musical is a hilarious production based on the worldwide bestselling series from Dav Pilkey, the creator of Captain Underpants and Cat Kid Comic Club.
Best buds George and Harold have been creating comics for years, but now that they're in 5th grade, they figure it's time to level up and write a musical based on their favorite character, Dog Man, the crime-biting sensation who is part dog, part man, and ALL HERO!! How hard could it be?
With the head of a dog and the body of a policeman, Dog Man loves to fight crime and chew on the furniture. But while trying his best to be a good boy, can he save the city from Flippy the cyborg fish and his army of Beasty Buildings? Can he catch Petey, the world's most evil cat, who has cloned himself to exact revenge on the doggy do-gooder? And will George and Harold finish their show before lunchtime?? Find out in this epic musical adventure featuring the hilarity and heart of Dav Pilkey's beloved characters.
The show is written by Kevin Del Aguila and Brad Alexander, who collaborated on the Emmy-winning series Peg + Cat on PBS, TheaterWorksUSA's Click, Clack, Moo, and Clifford The Big Red Dog on PBS and Amazon. Jen Wineman directs and choreographs.
Supported by the City of New Westminster and the Province of British Columbia
---
Children's Graphic Novel Writing & Illustration Festival
October 28 & 29, 2023
Do you know any children who aspire to create their own illustrated characters and bring them to life through a comic or graphic novel? Join award-winning animation director, and acclaimed author and illustrator Jeff Chiba Stearns for a three-hour workshop designed for students aged six to twelve. Each registration includes a ticket to see Dog Man: The Musical.