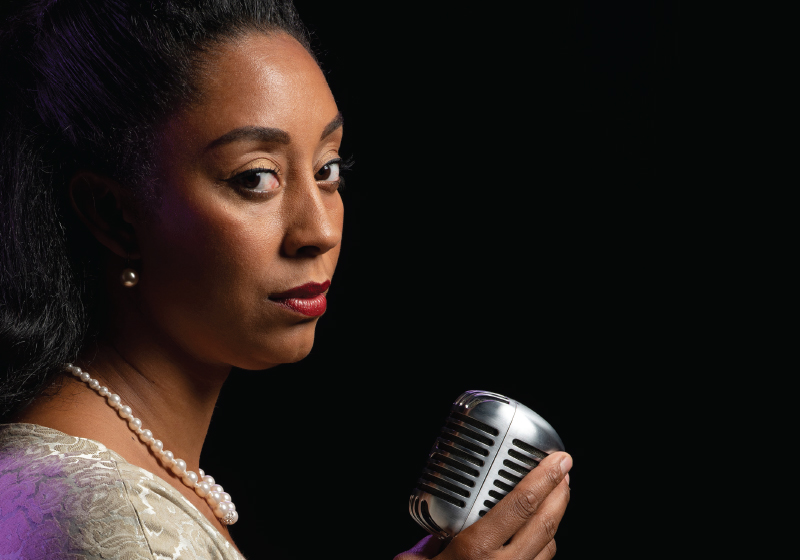 The new acclaimed musical which premiered at Anvil Centre in October 2020 returns. Set in a cabaret style, this one woman show could not be more relevant in this time of Civil Rights, Black Lives Matter, and Women's Rights movements.
But who is Viola Desmond…? other than the newest face on Canada's ten-dollar bill. She is best known for her courage in refusing to leave the whites-only section of Nova Scotia's Roseland cinema in 1946; a decision that made history, but she was also a feminist and beauty product icon. What was the fire within this successful black Canadian businesswoman that gave her the courage and confidence to stand up to systemic racial injustices in Canada?
In Hey Viola!, Vancouver songstress and performer Krystle Dos Santos, with the support of local musicians Chris Davis, Steven Charles and Mary Ancheta, brings the life of Viola Desmond to the stage using the dynamic and inspirational music that filled the home of this trailblazer of the civil rights movement. Using the musical format enriches the telling of her amazing and powerful story, and ultimately an important Canadian story.
Teaming up to create this work are two immense talents: Tracey Power, Co-creator and Director, who created Glory, Chelsea Hotel, The Songs of Leonard Cohen and the musical Miss Shakespeare and Krystle Dos Santos, an extraordinary actor, blues, jazz and soul singer and creator of "BLAK", exploring Canada's Black history.
With brilliant hits of the era, and songs that influenced history; "Don't Let Me Be Misunderstood", "A Change is Gonna Come", "Sinnerman", and "Mississippi Goddam", this personal, and powerful cabaret, gives audiences an opportunity to discover how the actions of one woman played such a huge role in a movement that Krystle herself continues today.
Hey Viola! runs from March 16th – March 27th.
Patrons with mobility challenges should contact the box office for seating advice. 604-521-5050
PLEASE NOTE: By order of the Provincial Health Officer (PHO), proof of vaccination and government issued ID must be presented in order to access indoor concerts, theatre, dance and symphony events. All audience members must be fully vaccinated. The requirement is in place until January 31st, 2022 and could be extended. The requirement applies to all people born in 2009 or earlier (12+).
The Covid 19 pandemic remains a public health risk. The theatre is following all requirements for safe gatherings as per government directives. To increase your safety we encourage you and all guests to consider your personal wellness and risk factors for yourself and loved ones when deciding to attend. Individuals are responsible for limiting their own exposure to other guests. As such, the theatre can't be held legally responsible for risks related to viral transmission. Rest assured theatre staff are taking a proactive and professional role in the adherence to protocols in the facility and we encourage open communication with us if any safety concerns emerge throughout, or after, your attendance at the theatre. We are all in this together!