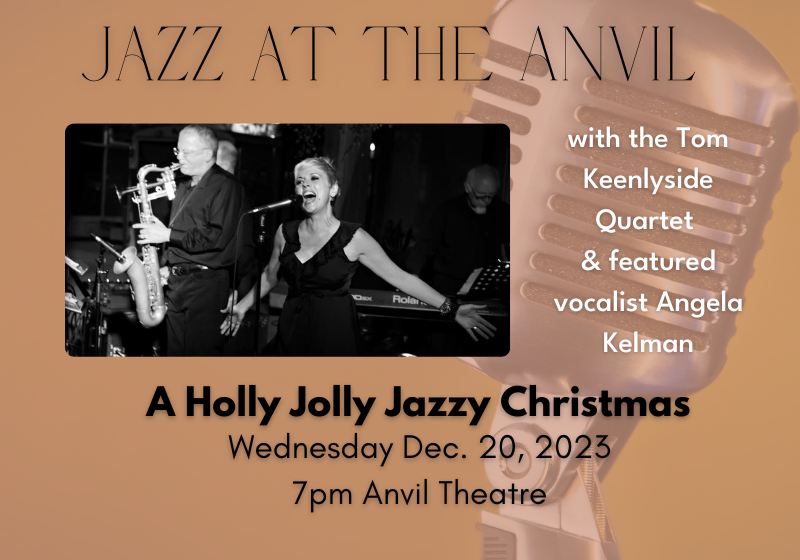 Presented by Piva
Presented by Piva
Piva presents: Jazz at the Anvil celebrates local, talented musicians from the Metro Vancouver area. The goal of these shows is to both elevate the appreciation of jazz, but also to engage, strengthen, and amplify arts in the community. Piva is also passionate about supporting the community: proceeds from these events go to New Westminster charities.
Come and experience "A Holly Jolly Jazzy Christmas" with the Tom Keenlyside Quartet and featured vocalist, Angela Kelman. Enjoy some swinging Christmas songs and traditional classics with the all star band of Tom Keenlyside on sax, flute and clarinet, Michael Creber on piano, Nino Di Pasquale on drums and Brent Gubbels on bass. This concert will be sure to put you in the Seasonal spirit and keep the Grinch away.
Tom Keenlyside
Tom Keenlyside is an extraordinarily gifted musician who has graced the stage and studio with some of the most iconic international artists of the 20th century and beyond. His talent on saxophone, flute and clarinet has made him a sought after studio player and producer as well. Anyone who has the good fortune to hear him play live will be exquisitely mesmerized by the depth of his talent.
Angela Kelman
After graduating with honours from Musician's Institute in Los Angeles, Angela became the lead singer and a principal writer for Farmer's Daughter. The group enjoyed major Canadian success with Gold albums, CMT videos, TV appearances, and multiple Juno, CCMA, and BCCMA Awards. Angela is also a respected vocal coach and author of "The 5 Point Singing System" and a Children's Sing-Along books series. In her spare time, she continues to gig with her dream retro band, The Polyester Philharmonic.