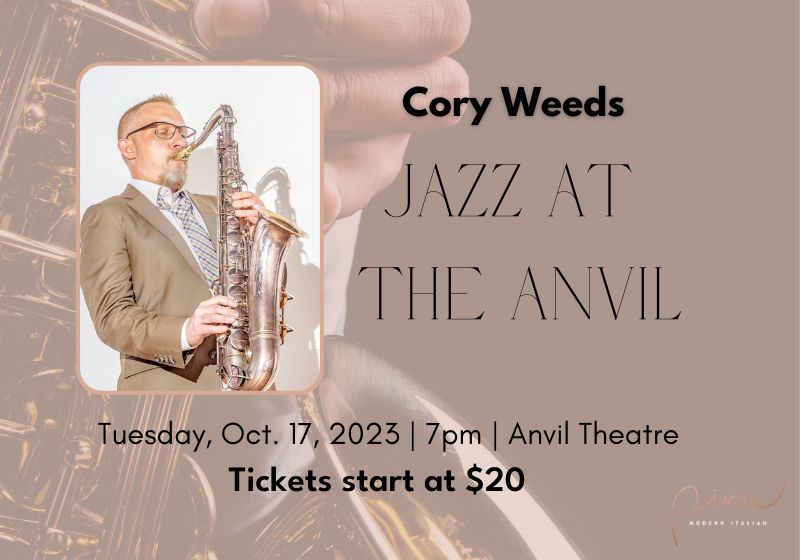 Presented by Piva
Piva presents: Jazz at the Anvil celebrates local, talented musicians from the Metro Vancouver area. The goal of these shows is to both elevate the appreciation of jazz, but also to engage, strengthen, and amplify arts in the community. Piva is also passionate about supporting the community: proceeds from these events go to New Westminster charities.
Often referred to as "the hardest-working man in Jazz business," Cory Weeds is best known as the founder and owner of Cory Weeds' Cellar Jazz Club, which ran in Vancouver for more than 14 years.
Weeds' passion for the genre is evident: a saxophonist, he fine-tuned his craft at the University of North Texas and Capilano University.
Weeds has also recorded twenty albums as a leader, including his latest Home Cookin' Just Coolin.' Weeds also founded The Cellar Music Group, which has put out more than 350 recordings–and counting.
Weeds has also served as producer on more than 200 recordings. In 2017 Weeds celebrated a win at the 2017 Juno Awards when Metalwood won for Jazz Album of the Year: Group. He had other projects nominated in 2019 and 2023.
2023 has been a watershed year for Weeds and the label. In March 2023 Weeds and the label were awarded a Grammy for The Generation Gap Jazz Orchestra in the large ensemble category.
On the presentation front, Weeds has booked Frankie's Jazz Club in downtown Vancouver since 2016. In addition to Frankie's, Weeds presents music all over British Columbia, Canada and the US.
Show attendees will also have a chance to win prizes, including a $100 gift card to Piva, and two tickets to an upcoming show!