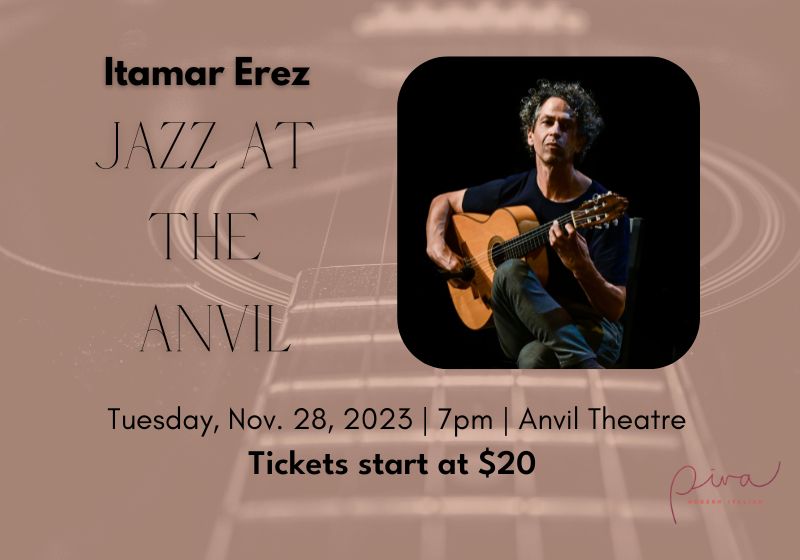 Piva presents: Jazz at the Anvil celebrates local, talented musicians from the Metro Vancouver area. The goal of these shows is to both elevate the appreciation of jazz, but also to engage, strengthen, and amplify arts in the community. Piva is also passionate about supporting the community: proceeds from these events go to New Westminster charities.
Erez's music holds a depth and sensitivity that touches listeners deeply, blending the delicateness of Middle Eastern music, the freedom found in jazz and the passion of flamenco–this allows him to create a unique sound all his own.
Recipient of the 2014 ACUM Prize for Special Achievement in Jazz and the prestigious 2014 Landau Prize, he is an internationally renowned composer and guitarist. He has performed in a variety of venues across the globe, including Carnegie Hall in New York, the Sydney Opera House in Australia, and Schauspielhaus Leipzig in Germany.
Erez has released two CDs with The Adama Ensemble: "Desert Song" (2006) & "Hommage" (2010). His most recent CD "Mi Alegria" was released in June 2019. He performs internationally and gives workshops and masterclasses, and is also part of the guitar faculty at the Vancouver Symphony Orchestra School of Music.
Show attendees will also have a chance to win prizes, including a $100 gift card to Piva, and two tickets to an upcoming show!