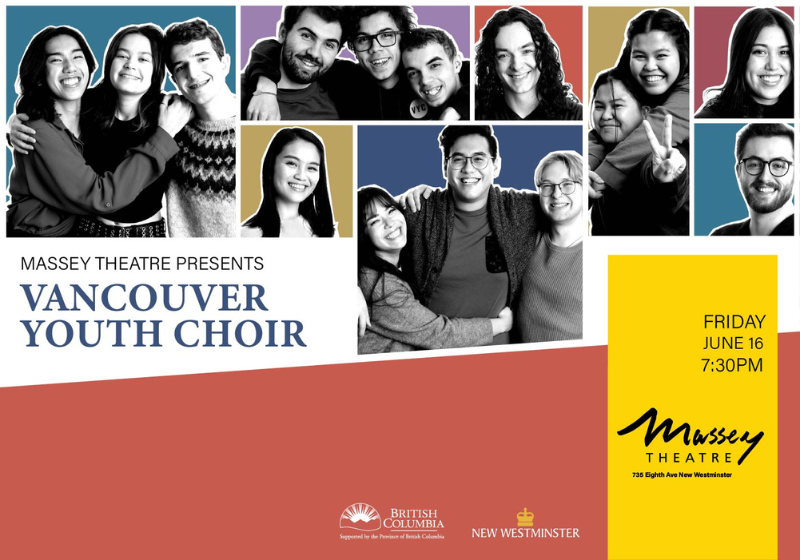 Founded in 2013 by Carrie Tennant, the Vancouver Youth Choir (VYC) has quickly emerged as one of the most active and highly regarded youth choirs in Canada. In nine years, the organization has expanded to include more than 320 singers in 7 ensembles, including the brand-new "VYC Kindred" – a free choral program where immigrant and refugee youth learn about Indigenous music and culture. The flagship ensemble – the Vancouver Youth Choir – is made up of 70 singers aged 14-24.
VYC has gained international attention for their adventurous programming, their commitment to performing and promoting music from underrepresented communities, and their outside-the-box approach to their performances, where they employ unique venues, multimedia, and movement. In addition to their regularly sold-out season concerts, VYC has been featured on national public radio, headlined festivals in Europe and North America, and in 2017 was awarded first prize at the National Choral Competition (Choral Canada). In 2019, the choir was invited to represent Canada at the American Choral Directors National Convention in Kansas City. In 2016, VYC launched the "Vancouver Youth Choir Choral Series" with Cypress Publishing, where they work to promote works by a diverse roster of Canadian composers on the international stage. Vancouver is an incredibly multicultural city, and the Vancouver Youth Choir is a reflection of this! Approximately two thirds of the choir members are NEW immigrants to Canada, or the children of new immigrants to Canada. They are proud of the diversity of cultural background that is reflected in their membership, and have a proven track record of programming music based on their singers' cultures and experiences.
Recently, this national treasure represented Canada at World Choral Music Symposium 2023 in Istanbul. At the symposium, VYC prepared a program featuring music from some of Canada's most exciting composers and arrangers. Much of this music reflects the cultural diversity of our country. From Gujarati folk songs, to newly-composed music in Cree, to cutting edge French-Canadian works, VYC is proud to share this incredible music with the audience.
Performing their International Program Selection of new and favourite compositions in fifteen languages, with work from Marie-Claire Saindon, Corey Payette, Katerina Gimon, Andrew Balfour, Shireen Abu-Khader, Hussein Janmohamed, Tracy Wong and Sherryl Sewepagaham, this show is an opportunity to experience the incredible performance that took place on the stage in Istanbul.