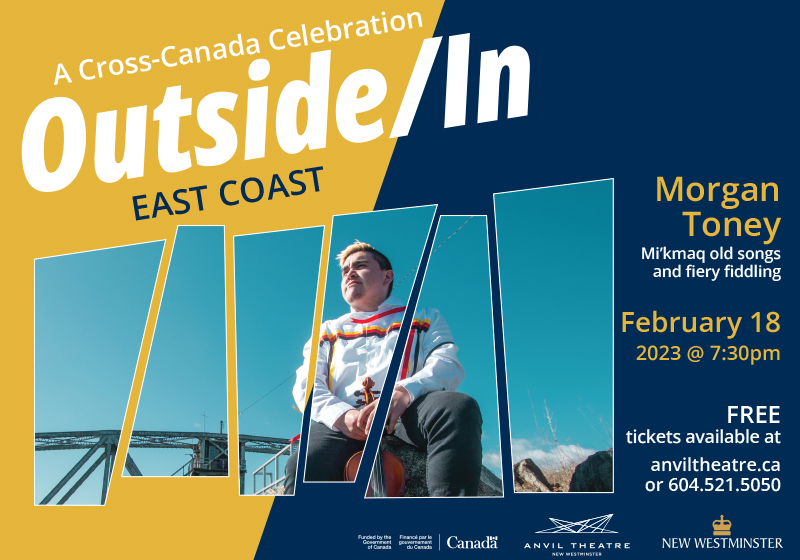 Mi'kmaq fiddler and singer Morgan Toney brings together the fiery fiddling of Cape Breton Island with the old songs of the Mi'kmaq People with brilliance and heart. Toney's music celebrates language and heritage in Toney's transformation of traditional songs like the Ko'jua and the Mi'kmaq Honour Song alongside highly original songcraft. This concert features Morgan Toney on Fiddle/Lead Vocals; Keith Mullins on Guitar/vocals/foot percussion; Colin Grant on Fiddle; Boyd MacNeil on bazouki/banjo; Mary Beth Carty as Dancer/vocals, and Sarah Prosper as Dancer/vocals.
This show is FREE but tickets are limited so don't delay!
About Outside/In
The Outside/In Canadian Performance Series is a special presentation occurring between January and March 2023 and will feature national performing artists from across Canada. The series is made possible with a grant from the Department of Canada Heritage (Celebration and Commemoration Program). As part of the series, we will be offering six live theatre performances, an outdoor street social event featuring local music and cultural groups, and a promotional campaign to encourage attendees to support local businesses and restaurants. These activities will increase opportunities for Canadians to participate in various commemorative activities and celebrations to mark Canada's emergence from the COVID-19 pandemic. The project will support the revival of local economies through in-person events. All events, including the professional theatre performances, will have free access for the community.
This series has been made possible in part by the Government of Canada. Ce projet a été rendu possible en partie grâce au gouvernement du Canada.