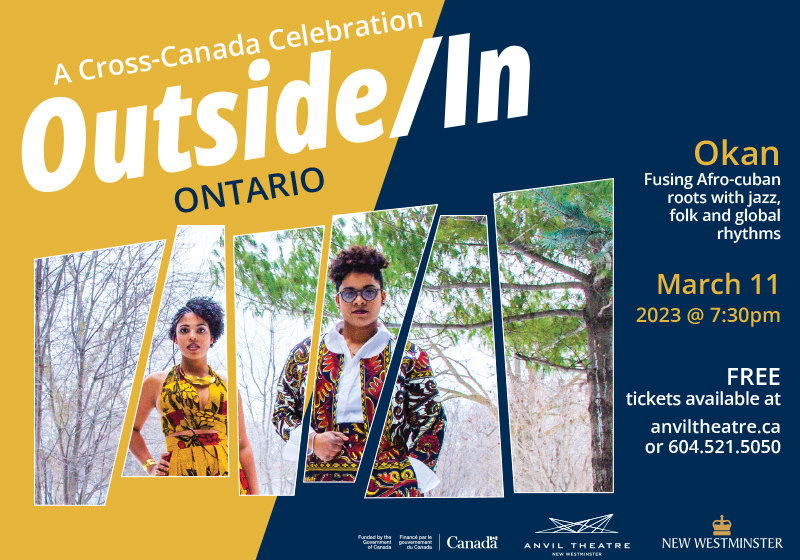 Taking their name from the word for heart in the Afro-Cuban religion of Santeria, the women-led ensemble OKAN fuses Afro-Cuban roots with jazz, folk and global rhythms in songs about immigration, courage, and love.
"OKAN's vocal- and percussion-driven tracks evoke their homeland yet also reflect the vibrant Cuban-Canadian community."

Now Magazine
Having recently worked with Bomba Estereo, Lido Pimienta and Dayme Arocena, OKAN recently followed up on their Juno-nominated and Independent Music Award-winning debut album Sombras, with their sophomore release Espiral. Espiral delves deeper into the group's rich Cuban roots, finding renewed inspiration in this rich musical heritage. The Santeria influences are most evident in the title track, Espiral which uniquely blends guajira, the folk genre of Eastern Cuba, with Santeria-derived chants.
This show is FREE but tickets are limited so don't delay!
About Outside/In
The Outside/In Canadian Performance Series is a special presentation occurring between January and March 2023 and will feature national performing artists from across Canada. The series is made possible with a grant from the Department of Canada Heritage (Celebration and Commemoration Program). As part of the series, we will be offering six live theatre performances, an outdoor street social event featuring local music and cultural groups, and a promotional campaign to encourage attendees to support local businesses and restaurants. These activities will increase opportunities for Canadians to participate in various commemorative activities and celebrations to mark Canada's emergence from the COVID-19 pandemic. The project will support the revival of local economies through in-person events. All events, including the professional theatre performances, will have free access for the community.
This series has been made possible in part by the Government of Canada. Ce projet a été rendu possible en partie grâce au gouvernement du Canada.