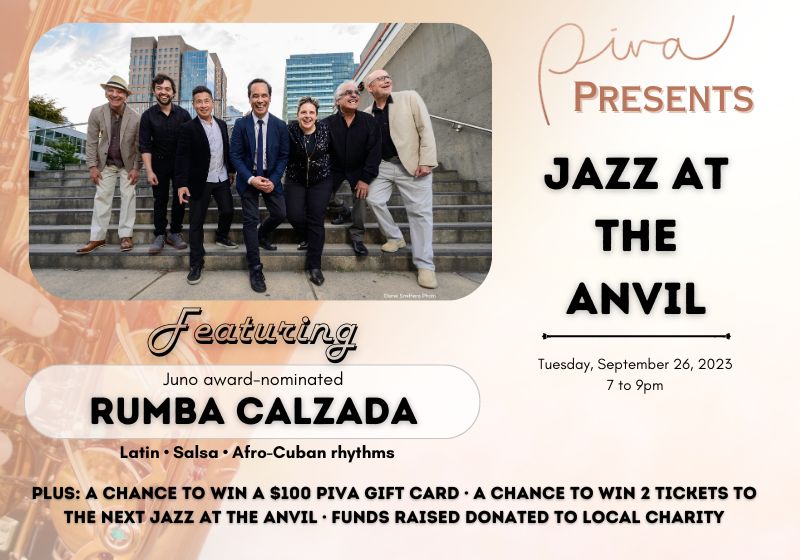 About Piva presents: Jazz at the Anvil
Piva presents: Jazz at the Anvil celebrates local, talented musicians from the Metro Vancouver area. The goal of these shows is to both elevate the appreciation of jazz, but also to engage, strengthen, and amplify arts in the community. Piva is also passionate about supporting the community: proceeds from these events go to New Westminster charities.
About Rumba Calzada
Originally formed in 1991, by Boying Geronimo and now headed by his son, Raphael Geronimo, Rumba Calzada has been a favourite with Vancouver's Latin Jazz and Salsa enthusiasts for over 25 years. Their CD, Volume 3 has been nominated for various awards including a 2002 Westcoast Music Award, a 2002 Canadian Independent Music Award, and a 2003 Juno Award.
Their 2007 release, Rumba Calzada Album 4, was nominated for a 2008 Western Canadian Music Award for Outstanding World Recording of the Year. In 2008 the band performed at the Borneo Jazz Festival, in Sarawak, Malaysia and was voted the "crowd favourite" to return in 2009.
"Canadian based Rumba Calzada brought the house down with their eclectic mix of Latin, Salsa and Afro-Cuban rhythms." – Adam Lee, Music-Room – Malaysia
"This one stays in the CD player. A classic." Descarga.com, New York