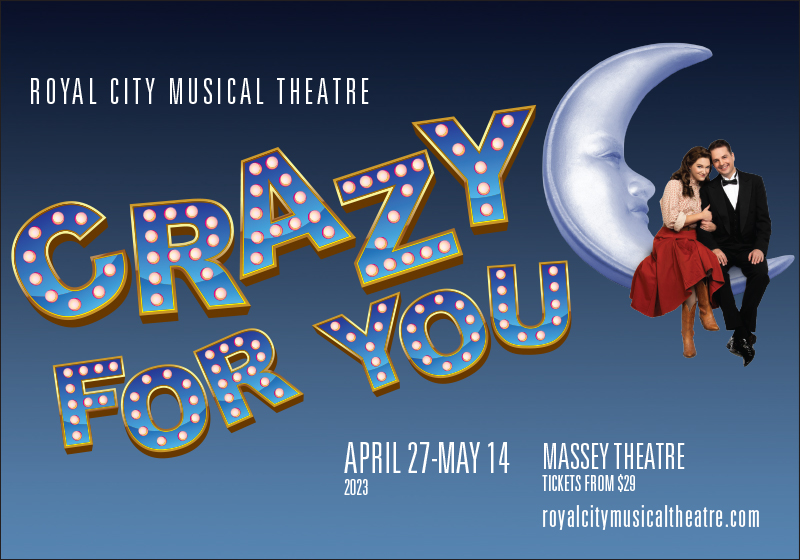 For its 31st season, Royal City Musical Theatre presents: Crazy For You.
The story in a nutshell: stage struck Bobby Child (Todd Talbot) works as a banker but has a desire to be a singer/dancer on Broadway and spends his off hours practicing dance routines. He is sent to Nevada to foreclose on a theatre and falls for Polly Baker (Rabecca Talbot), the sweet postmistress, whose father happens to own the beautiful, but decaying, Gaiety Theatre. Bobby concocts a scheme to bring together New York City Follies Girls with a cast of local rundown cowboys (with latent musical talent) to put on a show and save the theatre. But plans get complicated.
The zany yet light hearted script is complemented with sensational tap dancing and a collection of the most beloved tunes from George and Ira Gershwin including the romantic "Someone To Watch Over Me" and "Shall We Dance", "I Can't Be Bothered Now" and the high-energy dance number, "I Got Rhythm".
RCMT is consistently recognized for presenting exceptional Broadway quality musicals over its 30 year history. This years' show will continue that tradition with the same acclaimed team of Valerie Easton as director/choreographer, and musical director, James Bryson leading an 18 piece orchestra.
Creative Team
Cast: Todd Talbot (Bobby Child), Rabecca Talbot (Polly Baker), Kirk Smith (Zangler) all joined by over 20 talented local actors, singers and dancers.
Director & Choreographer: Valerie Easton
Musical Director: James Bryson
Vocal Director: Patrick Ray
Set Designer: David Roberts
Lighting Designer: Jeff Harrison
Costume Designer: Donnie Tejani
Technical Director: Alex House
Stage Manager: Philomena Sondergaard
Producer:                                Peter Jorgensen
Group tickets are available. Please call our box office for more information.