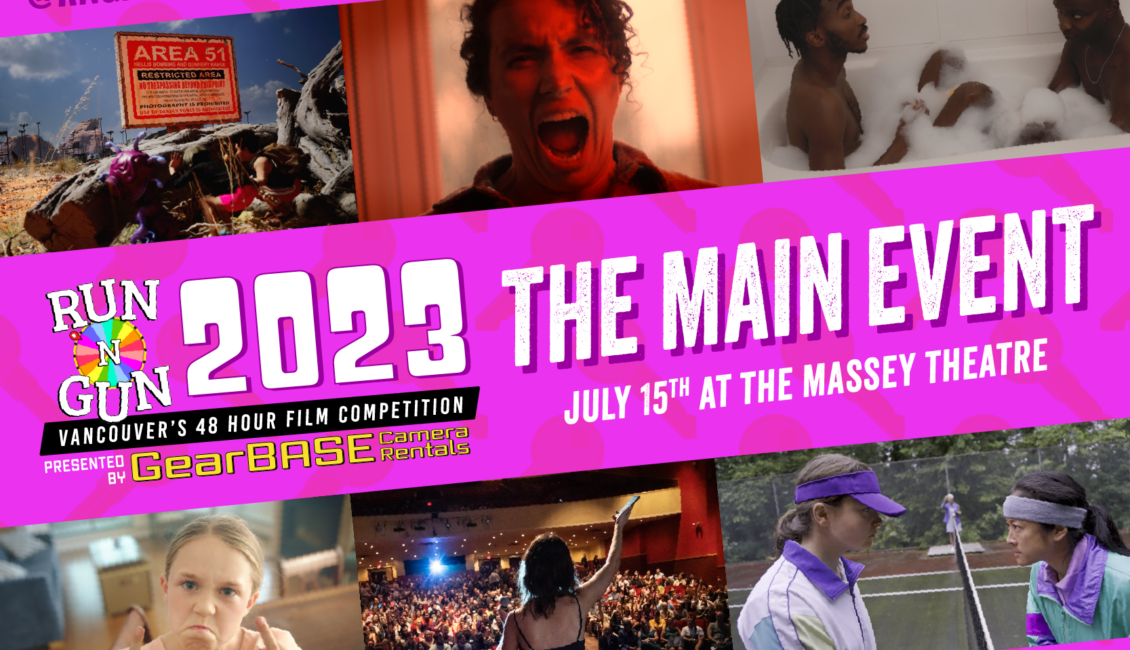 Ticket includes: Semi-Finals Screening, Filmmaker Mixer, Finals Screening, Awards Show & After-Party
Do you LOVE RunNGun?! So much that you want an extra-special reserved ticket?! Consider purchasing a PREMIERE TICKET to reserve your seat in the awesomest section, and throw some money toward the future of RunNGun! Our festival runs a lean budget, and this little extra helps go towards honorariums for our hard working team.
Run N Gun 48hr Film Competition and Festival is Vancouver's biggest indie filmmaking competition and event with 150 films programmed in a week of film screenings and madness. We are pleased to present the finale of this year's festival in the form of a day-long celebration of film and creativity at The Massey Theatre. Join us for screenings, mixers, awards show, and after-party!
2:30pm: Doors Open
3:00pm: Semi-Finals Screening, showcasing the Top 21 – 40 films created during the 2023 competition weekend.
5:00pm: Filmmaker Mixer with food and fun.
7:00pm: Finals Screening of the Top 20 films, all eligible for awards.
9:00 Awards Show, where we find out who takes home this year's amazing prizes.
10pm-1am: Super Epic Reception
Filmmakers from every team who submitted their film will be in attendance, as will industry professionals and sponsors, fans and supporters, and maybe a few folks who stumble in off the street. Join us for Vancouver's biggest celebration of independent filmmaking!
Disclaimer: The films in this program are unrated. All ages are welcome, but some viewer discretion is advised.
Between segments there will be a 15 minute intermission.