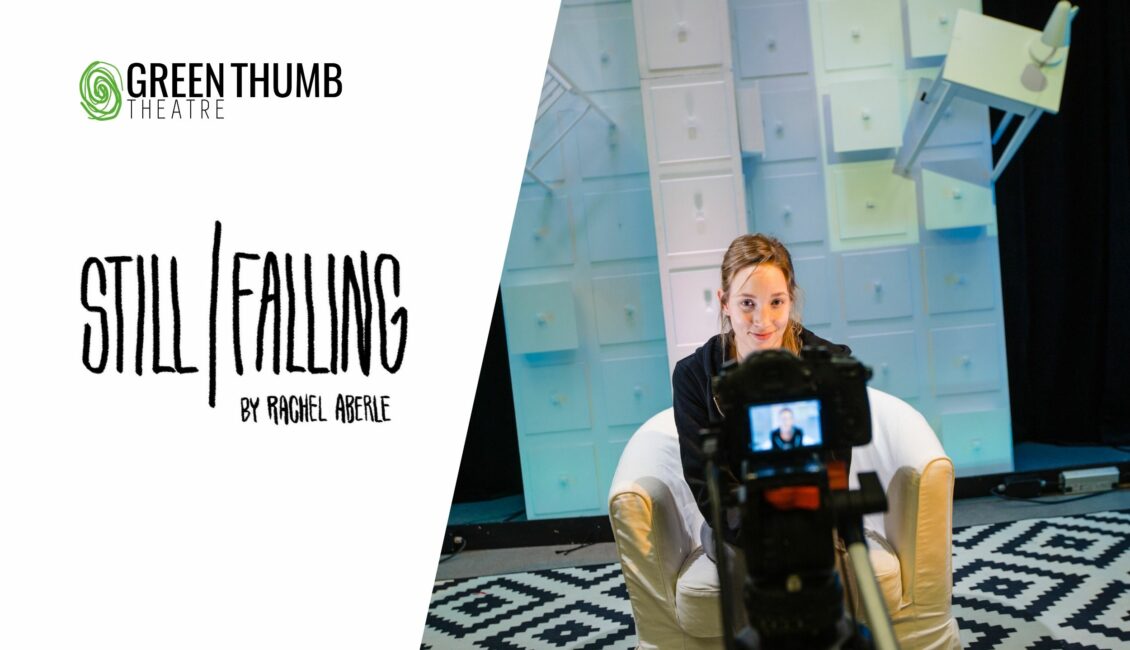 Lisa Baran in STILL/FALLING by Rachel Aberle. Set by Ken MacDonald. Lighting by John Webber. Photography by Sarah Race.
STILL/FALLING
by Rachel Aberle
Presented by Green Thumb Theatre
Post-show discussions in partnership with Anxiety Canada
About the show:
Beaming live from Green Thumb Theatre studios, directly to you!
Nina has a great life. She loves her family, she does well in school, and her friends are awesome. But suddenly Nina starts feeling… off, and she finds herself slipping into a dark reality she cannot understand.
Reimagined for a digital format in the style of a confessional online video, Green Thumb's award winning hit show offers a realistic, honest and bitingly funny look at the difference between 'teen angst' and mental illness, and the ways vulnerable kids can start to find their way out of the dark.
In the midst of a pandemic and rising levels of depression and anxiety in young people, STILL/FALLING is a timely and important conversation starter. Every show is performed live and is followed by a discussion about mental health in partnership with Anxiety Canada.
This "digital tour" is a first for Green Thumb, which has been touring productions for young audiences directly to schools and venues all over the province and country since 1975. In response to the COVID-19 pandemic, public presentations on May 2 & 6 provides a special opportunity for parents, guardians, and caregivers to engage with the theatre's work.
Post-show discussions will feature mental health youth advocate Shilpa Narayan, Anxiety Canada Scientific Committee member and Registered Clinical Counsellor Christine M. Yu, and Mental Health Champion for Anxiety Canada, John Bateman.
Content Advisory: STILL/FALLING is an honest look at one person's experience of anxiety and depression, and includes scenes depicting panic attacks, deep depression, and non-suicidal self-harm. The content of this play may prove to be an intense experience for some viewers.
Recommended for ages 13 +
Tickets for online live broadcast performances at 7pm on May 2 & 6 are available through TicketsNW. Tickets are $20 per device. If cost is a barrier, please contact touring@greenthumb.bc.ca to discuss options.
A closed captioned performance of STILL/FALLING and accompanying post-show discussion are pre-recorded. To purchase the closed captioned version, please purchase here. Ticket holders will be sent a link to view the pre-recorded performance.
School performances of STILL/FALLING twice a day May 3 – 7: contact touring@greenthumb.bc.ca to book.
About Green Thumb Theatre:
Founded in 1975, Green Thumb Theatre is a force within the field of Theatre for Young Audiences, not only in British Columbia, but across the country and throughout the world. Green Thumb Theatre creates, produces, and tours plays that explore social issues relevant to the lives of children, youth and young adults. Green Thumb provides theatre that celebrates the language and stories of today's generation and culture to stimulate empathy, debate and critical thinking.
TRAILER: