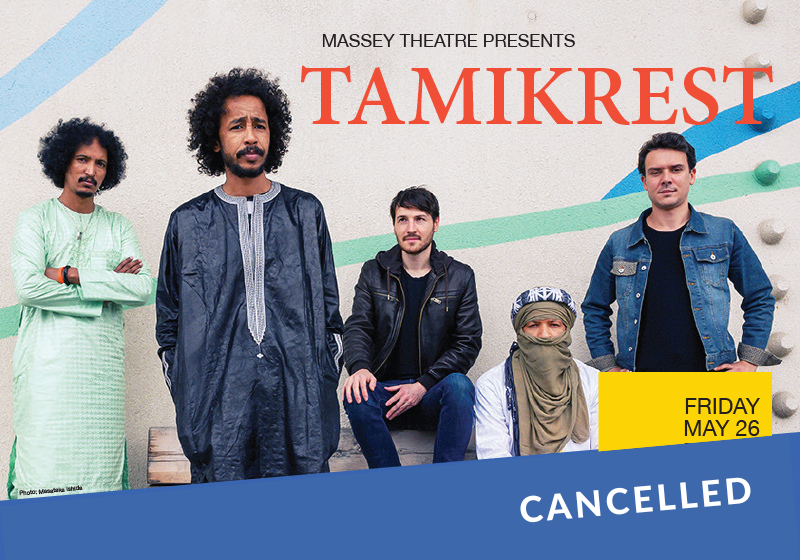 EVENT CANCELLED
Due to circumstances beyond our control, the upcoming performance of Tamikrest on May 26 has been cancelled. Please consider exchanging your tickets to a performance in our 2023-24 season. The line up can be found here: https://www.masseytheatre.com/announcing-our-2023-2024-season/
If you would prefer a refund, please let us know and we will complete that by the end of the week.
---
MASSEY PRESENTS: Tamikrest
Hailing from the Sahara Desert region of Mali in West Africa, globally-beloved rock collective Tamikrest are bringing their singular sound to the Lower Mainland for one night only. Fresh off their international tour and the success of their acclaimed latest album, Tamotait, the powerhouse group will take over the Massey Theatre for a heady night of desert blues – delivered in their inimitable musical style.
Formed in Kidal with musicians from Mali, Niger, Algeria and France, Tamikrest draws on the rebel Ishumar Rock, or Tuareg Blues, while incorporating heavy American rock, reggae, world music and folk to create a sound that is both global and utterly unique – as the band put it, "A desert hosts us, a language unites us, a culture binds us." Born of a homeland mired in political turbulence, their music speaks of a global yearning for peace. Tamikrest's most recent album, Tamotait, is their most powerful since 2013's widely acclaimed Chatma, a career-high opus that sees them deepening their atmospherics, recording with traditional Japanese musicians, and collaborating with acclaimed Moroccan singer Hindu Zahra.
Don't miss this chance to experience one of the world's most unique and powerful bands.