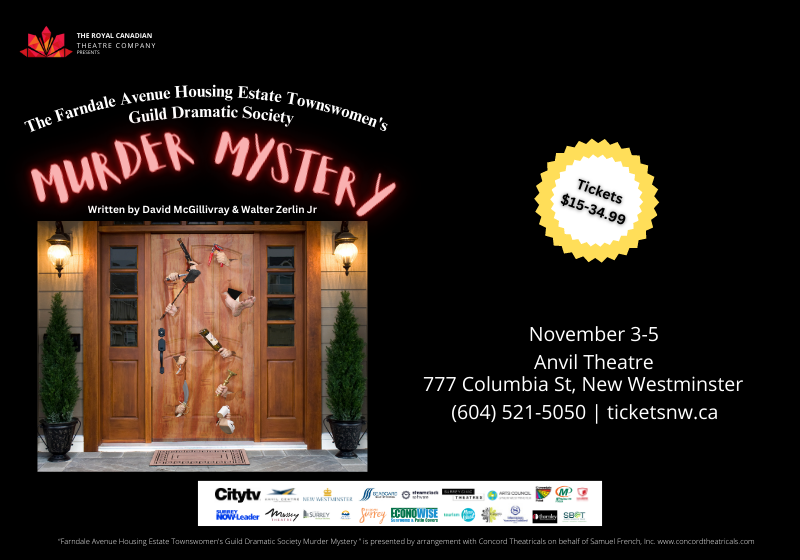 Presented by the Royal Canadian Theatre Company
Written by David McGillivray & Walter Zerlin Jr
Every drama group has experienced the horrors of what can go wrong on opening night, and the ladies of the F.A.H.E.T.G. Dramatic Society are no different, with the possible exception that almost everything that could happen does! The scenery collapses, cues are missed, lines forgotten, and the sound effects take on a strange note at times, as the ladies present their ambitious evening's entertainment with the cunning whodunit, "Murder At Checkmate Manor." And just in case the audience should get bored there's a Film and Fashion Show and Murder Mystery Quiz, complete with a Prize! The crunch comes in the denouement when the "murderer", about to be revealed, has to rush home to bandage up an injured daughter. But Mrs. Reece, doyenne of the group, rises above the slings and arrows of outrageous dramatics to save the situation and provide the final inventive twist.
---
SEE MORE SHOWS AND SAVE!
Discounts are available by phone at 604-521-5050 for the following great deals:
• Family pack of 4 tickets
• Groups of 10 or more
•Book all three Royal Canadian Theatre Company shows as a Season Ticket until October 26 to save 20% on your tickets (The Farndale Avenue Housing Estate Townswomen's Guild Dramatic Society Murder Mystery at Anvil Theatre, Cinderella at Massey Theatre and Cheaters at Anvil Theatre).
---
Relaxed Performance *
Saturday, November 4 at 7:30 PM
The relaxed performance is sometimes called "sensory friendly performance" and is specifically designed to make theatre more welcoming for audience members with sensory, communicative or other challenges.
During these plays, patrons can enjoy the show together with family and friends in welcoming, inclusive and relaxed spaces. "Relaxed Performances" are also excellent for anyone with babes in arms or toddlers.
• Sound and lighting cues are adjusted to be less intense;
• exiting and entering the auditorium is allowed at any time;
• auditorium lights are never fully turned off;
• audience noise, movement and even the use of phones or other "fidget devices" are tolerated.
• Relaxed Performances are "Buy 1 get 1 free" to accommodate for those with a guide or an aid who attend the performance with them.