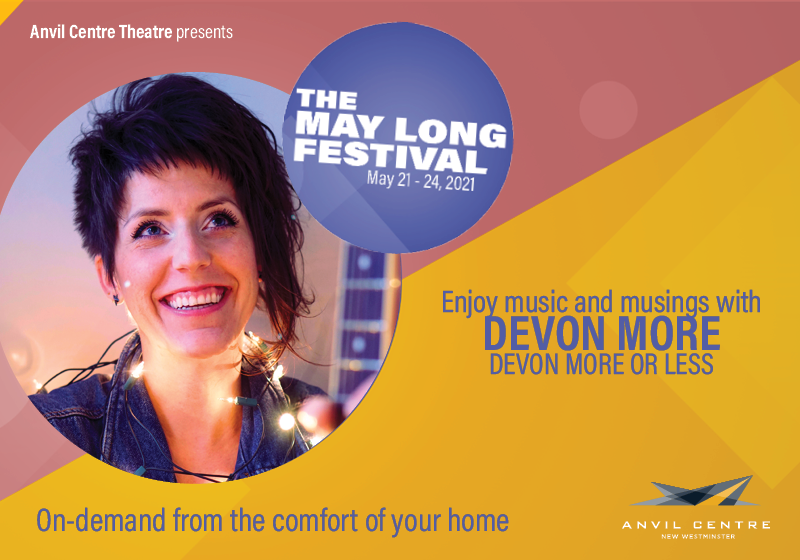 Devon says "Live art is too dangerous, but how about TV dinner – and a show?" Devon More was a regular performer at the Heritage Grill for years. She is mixing music and insightful musings, as usual and serving up select favourite earworms from her one-woman cabarets (Berlin Waltz, Flute Loops, Hits Like a Girl) – along with a brand new surprise or two… Devon more or less just wants you to know that New West IS still the best, and she misses you.
"I've premiered more of my original work here in New West than anywhere else: Way Off-Broadway Wednesday was a magical workshop for new ideas – to take risks and feedback off my loyal audience members. Art is a conversation – and people talk here." -Devon More
TO PURCHASE A FESTIVAL PASS (4 shows for $30 plus service charge): Select a ticket at the festival pass rate for all four performances (Janice Bannister, Krystle Dos Santos & Friends, Devon More, and Jaylene Tyme, Allan Morgan & Friends) Note: The discounted price is only offered for purchase of all four shows. Any orders with less than four shows at the festival pass rate will be adjusted to full price. Once you've purchased your tickets, please login to shop.ticketsnw.ca anytime between noon on May 21 and midnight on May 24.