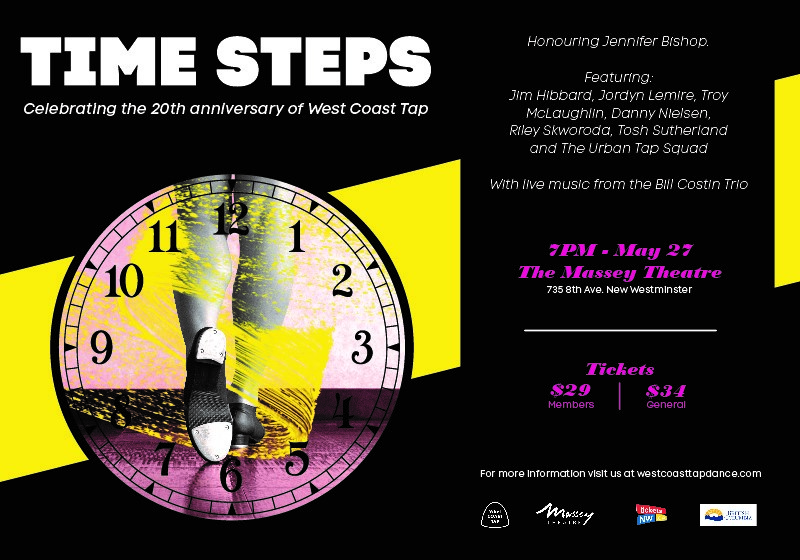 The West Coast Tap Dance Collective presents Time Steps, May 27th @ The Massey Theatre.
Time Steps is an all-tap-dancing show featuring professional and amateur tap dancers and live music.
Each year West Coast Tap recognizes National Tap Dance Day, the birthday of Bill 'Bojangles' Robinson, with a celebration that brings the local tap dance community together. This year Tap Dance Day AND the 20th anniversary of West Coast Tap will be celebrated with a high-energy and entertaining show that will highlight the tap artistry of local performers.
It is a tradition in tap dance to honour the artists who have 'paved the way'. Time Steps will honour Jennifer Bishop, a performer and teacher who has been a pillar of the local tap dance community for the past 30 years.
West Coast Tap is a non-profit society that supports tap dancers and the art of tap dance on the West Coast through performances, workshops and scholarships.
Cast: Tap artists – Jim Hibbard, Jordyn Lemire, Troy McLaughlin, Danny Neilsen, Riley Skworoda, Tosh Sutherland, Jennifer Bishop with the Urban Tap Squad and amateur tap groups from various BC dance studios. Musicians – The Bill Costin Trio