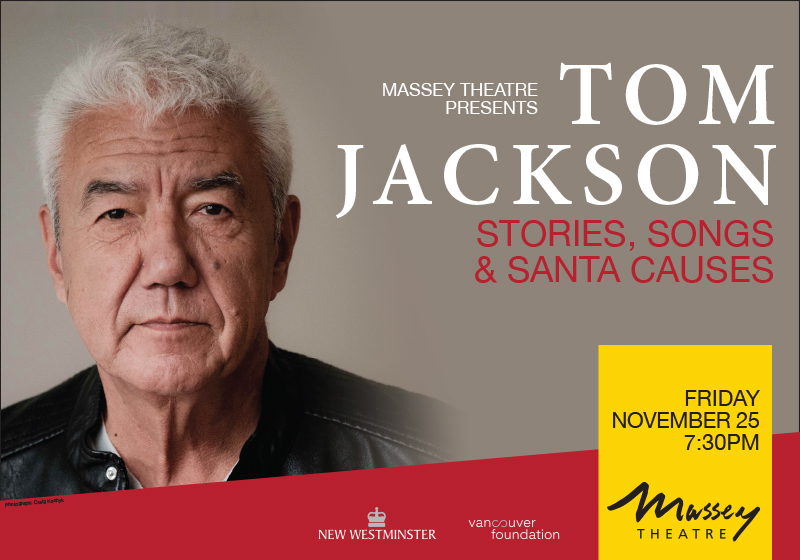 MASSEY PRESENTS Tom Jackson-Stories Songs and Santa Causes
Tom Jackson kickstarts the holiday season with grace, style, and quirky festivity that many have enjoyed for decades. Expect an evening of original music, sing-along tunes, and signature Christmas music from this master storyteller.
Tom has travelled coast to coast to coast with The Huron Carole for many years, raising funds and awareness for local food banks and family service agencies, and this year, Massey Theatre audiences will get to enjoy some of his in-person charm.
As a Companion of the Order of Canada, Juno and Gemini Humanitarian Award winner, eleven-time honorary degree recipient, and a proud bearer of the 2014 Governor General's Performing Arts Award for Lifetime Achievement, Tom is noted for his ability to mobilize others into action – often leading with a hug.
Stories, Songs and Santa Causes also features BC Country Music Association Hall-of-Fame producer, Tom McKillip, and award-winning producer/multi-instrumentalist, John MacArthur Ellis.
Tom, Tom and John can't promise "no Dad jokes", but the performance will bring some much-welcome levity and humanity with a date-night – or family-day – vibe!
Read more about Tom Jackson here.