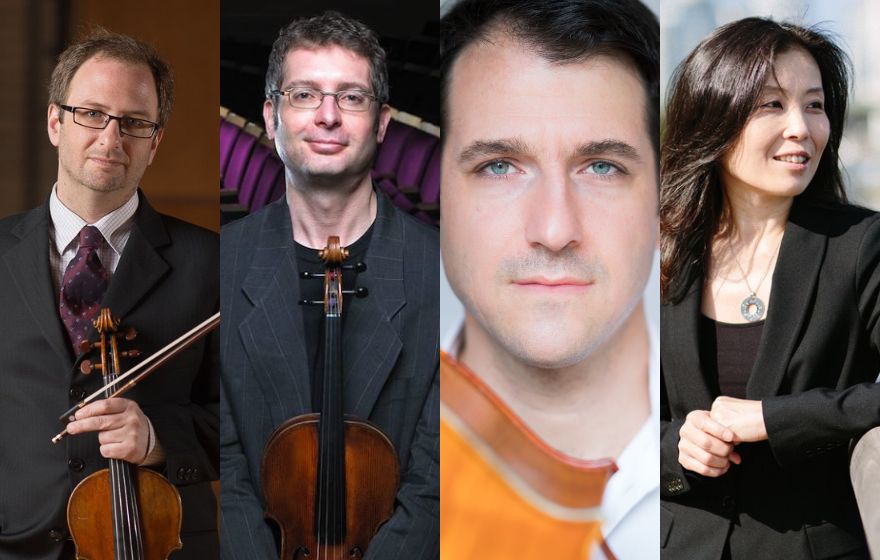 David Gillham, David Harding, Ariel Barnes & Chiharu Iinuma
Presented by the Vancouver Chamber Music Society (VCMS) in collaboration with Anvil Theatre.
Programme:
Ludwig van Beethoven – String Trio in G major, Op. 9, No. 1
Ernst von Dohnányi – Serenade in C major, Op. 10
Johannes Brahms – Piano Quartet No. 3 in C minor, Op. 60
"gripping…soulful playing." – Paolo Petropaulo, CBC Radio 2 Host
Inspired by friendship and their innate musical chemistry, the Archytas Ensemble officially formed in 2016 as an international roster of world-class chamber musicians. Members have won accolades such as the Queen Elizabeth Golden Jubilee Medal for contribution to the arts in Canada, the Sir John Barbirolli Award at the Lionel Turtis International Viola Competition, and 1st Prize in the 24th International Johannes Brahms Competition. As seasoned chamber musicians and soloists, Archytas members have appeared in concert halls throughout the world including the Berlin Philharmonie, Tokyo Opera City, Taiwan National Concert Hall, and Amsterdam's Concertgebouw, while collaborations with artists such as James Ehnes, Noah Bendix-Balgley, Johannes Moser, Atar Arad, Jane Coop, the Dover String Quartet, and the Zodiac Trio speak to their artistic temperament. With bases in Europe, North America and Australia, the Ensemble collects in various parts of the world on a project-to-project basis.
Subscriptions for the series are available by calling 604-521-5050
Vancouver Chamber Music Society
The Vancouver Chamber Music Society is the leading presenter in western Canada of high-calibre chamber music featuring world-renowned chamber ensembles, and solo and recital artists. Their program, steeped in the rich tradition of classical music, meets contemporary audiences in a familiar and intimate way at the modern theatre space in New Westminster's modern Anvil Centre.