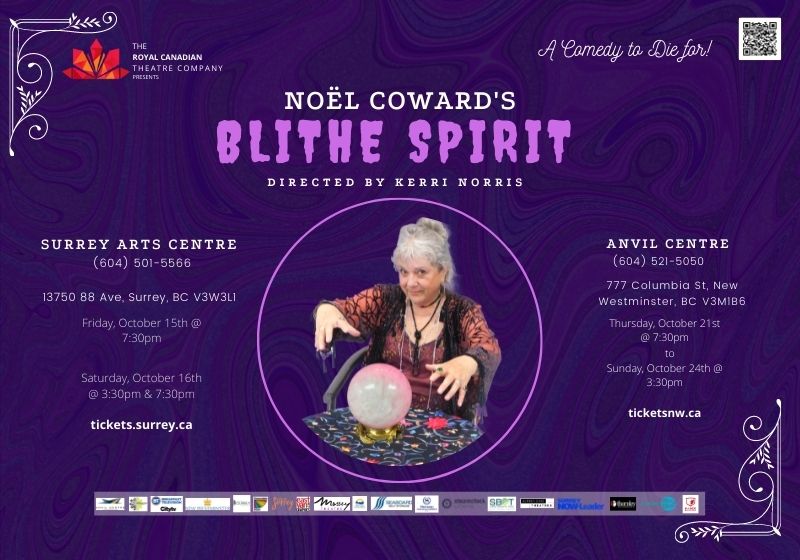 presented by the Royal Canadian Theatre Company Directed by Kerri Norris
Family Friendly Approx. Running Time: 2 hours with Intermission
October 21, 22 and 23 @ 7:30 pm
October 23 and 24 @ 3:30 pm
At Anvil Centre Theatre
Are you ready for the spookiest season of the year? Let us bring you laughs and frights with this classic, creepy comedy. Based in the 1940's, this comedy follows novelist Charles Condomine and his second wife Ruth, as they muddle through marital troubles, staff etiquette and pranking their local medium. Charles Condomine believed it would be a suitable evening for a séance at his house with his wife, and some family friends. Little does he know, eccentric medium Madame Arcati, is more powerful than ever could have imagined. His previous wife has been summoned back from the abyss and only he can see or hear her. Can he contain his appealing and spectral wife from destroying the new life he's built with his current wife, Ruth? Or will his life come crashing down around him?
Suitable for older children upwards, and don't miss the Relaxed Performance 3.30 pm October 24. Presented in partnership with the Massey Theatre Society. RCTC is the only theatre company outside of Vancouver to present theatre specifically designed for those with intellectual or other challenges.
PLEASE NOTE: Seats are sold in singles or pairs. By order of the Provincial Health Officer (PHO), proof of vaccination and government issued ID must be presented in order to access indoor concerts, theatre, dance and symphony events. Starting September 13th, 2021 you must have at least one dose of a COVID-19 vaccine. By October 24th, you must be fully vaccinated. The requirement is in place until January 31st, 2022 and could be extended. The requirement applies to all people born in 2009 or earlier (12+).
TICKET PURCHASE CONDITIONS: If seating capacity is expanded or increased at any time following this purchase due to government regulations or recommendation, the venue, at its sole discretion, will determine the validity of tickets. If tickets become invalid, refunds will be issued at the time of a decision and purchasers notified.