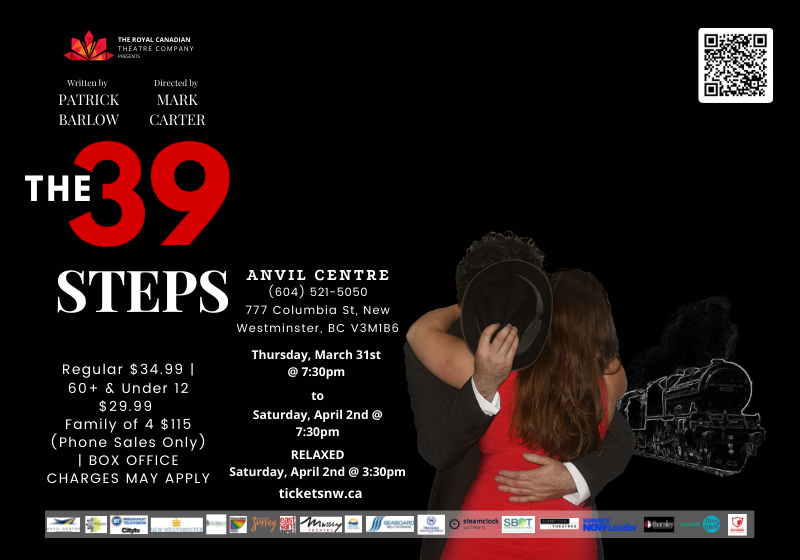 Written by Patrick Barlow
Directed by Mark Carter
Presented by the Royal Canadian Theatre Company
Run time: Approximately 2 hours with intermission
The show hurtles a notorious fugitive and a spellbound blonde from a London music hall north by northwest to Scotland's most remote highlands. Will they save Britain from a den of devious spies?
A cast of four actors plays over 150 characters in this fast-paced tale of an ordinary man on an extraordinarily entertaining adventure. The 39 Steps contains every single legendary scene from the award-winning movie — including the chase on the Flying Scotsman, the escape on the Forth Bridge, the first theatrical bi-plane crash ever staged and the sensational death-defying finale in the London Palladium.
Show dates:
March 31st at 7:30 pm
April 1st at 7:30 pm
April 2nd at 3:30 pm (RELAXED PERFORMANCE)
April 2nd at 7:30 pm
The Relaxed performance welcomes audience members who will benefit from a more relaxed sensory experience and casual environment, including (but not limited to) patrons with Autism, sensory processing disorders, or learning disabilities.
During these plays patrons enjoy the show together with family and friends in welcoming, inclusive and relaxed spaces. These performances are also excellent for anyone with babes in arms or toddlers.
Sound and lighting cues are adjusted to be less intense;
exiting and entering the auditorium is allowed at any time;
auditorium lights are never fully turned off;
pre-performance the cast explains what's about to happen and
audience noise, movement and even the use of phones or other "fidget devices" are tolerated
The relaxed performance is presented in partnership with Anvil Theatre. Tickets for this showing are 50% off.