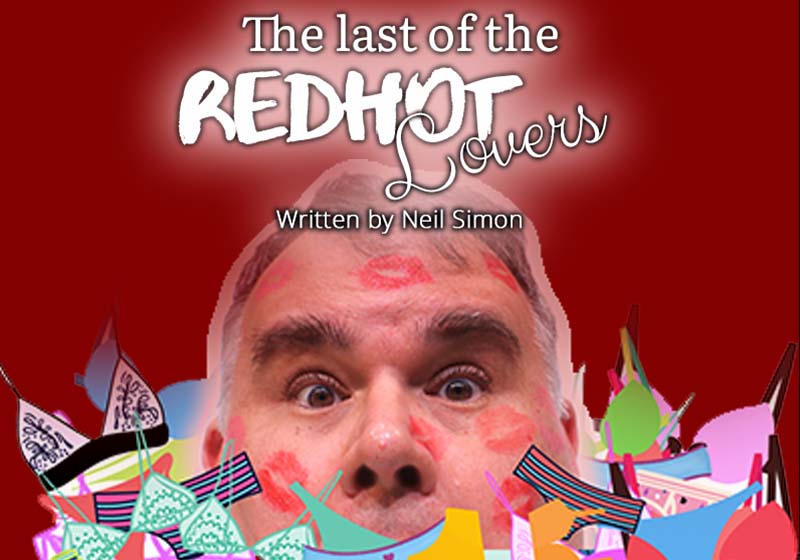 By Neil Simon
Presented by Royal Canadian Theatre Company
Barney Cashman is forty-seven, happily married, the father of three children, a successful businessman, and a man going through a midlife crisis. Barney has come to the realization that his whole life can be summed up in one word: nice. And Barney has realized that "nice" simply isn't enough. He wants to experience his secret fantasies and dreams at least once, and so Barney determines to have an affair. Neil Simon's The Last of the Red Hot Lovers examines what it means to grow older, and asks the question, "What do you do when it seems as if your life hasn't been fully lived?"
Showtimes as follows:
March 24, 2023, 7:30pm
March 25, 2023, 3:30pm + 7:30PM
March 26, 2023, 3:30 PM
March 29, 2023, 7:30 PM – relaxed*
March 30, 2023, 7:30 PM
March 31, 2023, 7:30 PM
April 1, 2023, 3:30 + 7:30PM
*The relaxed performance is sometimes called "sensory friendly performance" and is specifically designed to make theatre more welcoming for audience members with sensory, communication or other challenges.
During these plays patrons enjoy the show together with family and friends in welcoming, inclusive and relaxed spaces. "Relaxed Performances" are also excellent for anyone with babes in arms or toddlers.
Sound and lighting cues are adjusted to be less intense;
exiting and entering the auditorium is allowed at any time;
auditorium lights are never fully turned off;
pre-performance the cast explains what's about to happen; and
audience noise, movement and even the use of phones or other "fidget devices" are tolerated.
Discounts are available by phone at 604-521-5050 for the following great deals:
Family of 4 or more
Groups of 10 or more
Book all three of our shows this season for subscription savings until October 14. RCTC productions are: